Welcome to Our Practice

We welcome you to get to know the Pediatricians, we're happy you're here!
If you are an expecting parent or future new patient, click here for information.
The physicians and staff, located in suite 326 at 5400 Balboa Blvd. in Encino since 1987, are dedicated to providing comprehensive health care to children from birth to early adulthood. We are concerned not only about medical issues, but understand that a child's well being must be viewed in the context of family, nutrition, education, enriching extracurricular activities, discipline, and social interaction. If it has to do with your child, we care.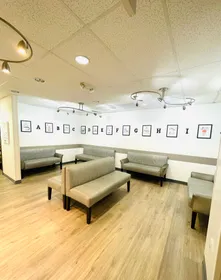 We believe in the value of continuity. Each family chooses one of the nine pediatricians as their primary doctor, with whom they will develop a close working relationship. Most office visits and phone interactions will be with the primary pediatrician, but the other physicians are available when needed to provide backup every day of the year. In addition, our patients also receive comfort and advice from our excellent, caring, well trained staff, many of whom have been working with us for more than ten and several more than twenty years.
All of us are devoted to providing the highest quality, family oriented, professional pediatric care delivered in a warm, compassionate, and informative manner.
Before your first visit, please familiarize yourself with our office and financial policies under the General Information Tab and fill out our Office Agreements and complete the online Patient Registration Form. If you need to transfer your records from a previous doctor, please fill out this authorization form. Thank you.